1. Diagram of the Danish higher education system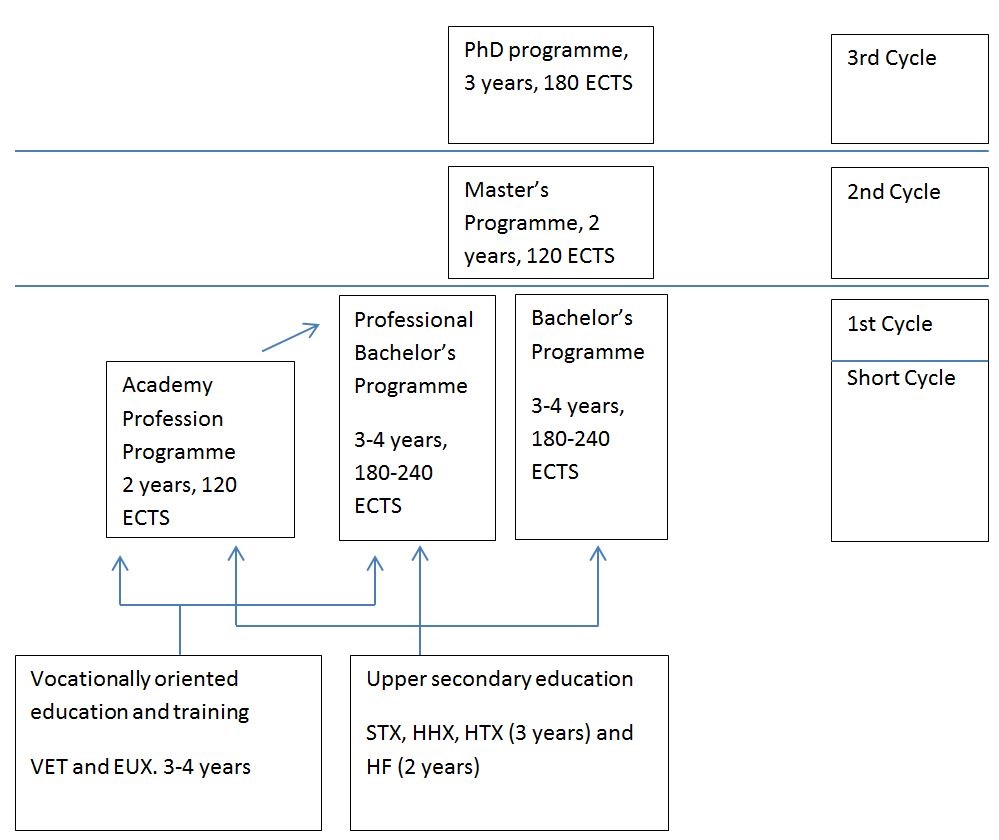 2. Types of higher educational institutions
| National name | English name | Quality assurance | NQF / EQF | Types of qualifications offered |
| --- | --- | --- | --- | --- |
| Erhvervsakademi | Business academy | The Danish Accreditation Institution | 5-6/5-6 | Academy Profession (AP) degree, Professional Bachelor's degree. |
| Professionshøjskole | University colleges | The Danish Accreditation Institution | 6/6 | Professional Bachelor's degree |
| Universitet | University | The Danish Accreditation Institution | 6-8/6-8 | Professional Bachelor's degree, Bachelor's degree, Master's degree, PhD degree |
| Kunstnerisk uddannelsesinstitution | Institutions in architecture and art | The Danish Accreditation Institution | 6-8/6-8 | Bachelor's degree, Master's degree |
| Maritim uddannelsesinstitution | Maritime educational institutions | The Danish Accreditation Institution | -6/-6 | Professional Bachelor's degree |
3. Types of higher education
| Qualification | Qualification in English | EQF level / Cycle | Length or ECTS | Access requirement | Access to further study |
| --- | --- | --- | --- | --- | --- |
| Erhvervsakademigrad | Academy profession degree | 5 / Short cycle | 90-150 ECTS | Upper secondary or VET | May give access to top-up professional bachelor's programmes |
| Bachelorgrad | Bachelor's degree | 6 / First cycle | 180 ECTS | Upper Secondary | Master's degrees |
| Professionsbachelorgrad | Professional bachelor's degree | 6 / First cycle | 180-270 ECTS | Upper Secondary | Master's degrees |
| Kandidatgrad | Master's degree | 7 / Second cycle | 120-180 ECTS | A bachelor's degree or a professional bachelor's degree | Ph.D. Degree |
| Ph.d.-grad | PhD degree | 8 / Third cycle | 180 ECTS | A master's degree | n/a |
3.1. Adult and continuing higher education
In Denmark there are two different pathways in higher education. One pathway is the ordinary formal higher education system aimed at students coming with general upper secondary qualifications, while the second pathway is aimed at adults with at least two years of relevant work experience (called adult/continuing higher education). The Academy Profession degree within adult/continuing higher education is awarded after studies at short cycle level and gives access to diploma programmes. The Diploma degree (diplomuddannelse) is awarded after studies at first cycle level and gives access to master programmes. The Master degree (masteruddannelse) is awarded after studies at second cycle level, but does not give access to PhD. The ordinary system includes the degrees mentioned in the table above.
The programmes normally consist of 2 years of part-time study (60 ECTS credits). Certain master programmes require 90 ECTS credits. Degrees in the adult/continuing education system are in general professionally oriented and aimed at developing professional practice and management competences within the different subject areas.
4. Qualifications framework
The qualification levels form the basis for the Danish National Qualifications Framework for Higher Education, which is certified in accordance with the overarching Bologna Framework according to the principles adopted by the European Ministers of Higher Education. Danish higher education qualifications at levels 5-8 of the Danish Qualifications framework for Lifelong Learning (NQF) are also compatible with levels 5-8 of the European Qualifications Framework (EQF).
5. Quality assurance and accreditation
Institutional accreditation
The new Accreditation Act (The new Danish Accreditation Act came into force on 1 July 2013) marks the transition to institutional accreditation. The transitional period runs from 2013 to 2017 the first institutional accreditations are initiated in the autumn of 2013. Institutional accreditation enables institutions to establish a system that best strengthens and develops the quality and relevance of all their programmes. It involves an assessment of the institution's overall quality assurance system by the Danish Accreditation Institution.
Programme accreditation
Until the institutional accreditation is fully incorporated, all new programmes in Denmark must be accredited before they can be established.
In addition, there will continue to be a smaller number of accreditations of existing programmes at universities, university colleges, academies of professional higher education and art and maritime education institutions during a transitional period.
6. Upper secondary qualifications giving access to higher education
| Name | Specialisation | Further study |
| --- | --- | --- |
| The Gymnasium (Gymnasiet, studentereksamen, stx) | General education and general study preparation | All short and first cycle programmes |
| The Higher Preparatory Examination (Højere forberedelseseksamen, hf) | General education and general study preparation | All short and first cycle programmes |
| The Higher Technical Examination Programme (Højere teknisk eksamen, htx) | The emphasis in the HTX programme is on subjects within the technics and natural sciences | All short and first cycle programmes |
| The Higher Commercial Examination Programme (Højere handelseksamen, hhx) | The emphasis in the HHX programme is on vocational perspectives with in business economics and socio-economics | All short and first cycle programmes |
| EUX | Combines a VET with a general upper secondary education | All short and first cycle programmes |
7. Useful links